Friday Faves: Why Don't We, Louis Knight, and More
Right, so... the world's a little weird right now, huh?
Even though the music industry is still grappling with the strangeness that this new chapter has brought us, so many artists are making the most of it. With time for self-reflection, the music coming out as we transition into a new era of social distancing has been some of the most genuine the world has seen in a while.

In this first post of Alex's Friday Faves, I'll be talking about a few song features form the past few weeks that have caught my eye (or ears rather!). Keep tuning in weekly to keep up to date on new releases, pop culture moments, and more.
1. "Save a Little Love" - Louis Knight
I first met Louis Knight while interning at TigerBeat! Back then, I could tell immediately that there was something about both him and his music that was special, authentic, and full of passion. Following his time on American Idol, Louis has put out a couple of singles and while his song "Twisted Conversations" will always have a special place in my heart, I can definitely say this new tune does a great job at showcasing who Louis is and what sets him apart.
In an era of pop culture corrupted with hatred, rivalry, and vulgarity, Louis rises above it with a sound that is pure and creates a space for fans to feel warm and welcomed. "Save a Little Love" follows a fulfilling rise and fall of music, taking fans on a journey from start to finish. This ballad immediately became a favorite.
If you're looking for an on-the-rise artist to obsess over, there's no one better than Louis Knight.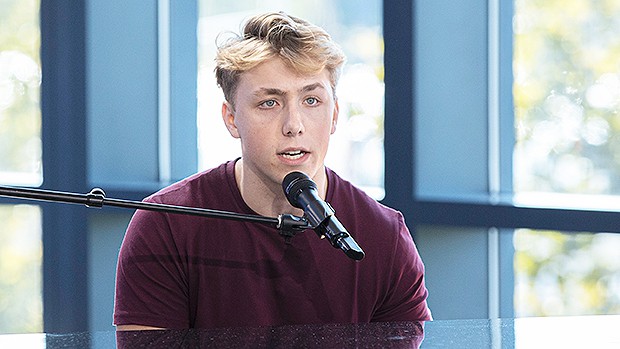 Was it a little odd for boyband 'Why Don't We' to release a song entitled "Fallin'" when they already have one called "Falling"? Yes. Did they attempt to cover this up by changing the old song's name? Yes. Do I still own a copy of the album with the original title? Yes. Will I ever let them live down how funny this is? No.
Nonetheless, the NEW "Fallin'" is the bop of the century. More than that-- it's an anthem! It's clear that these boys are embracing a whole new era with a whole new aesthetic. This self-penned song showcases everything the boyband is capable of and more. 
Following the trend from the Ed Sheeran penned "What Am I", the boys seem to fully have embraced playing their own instruments. It's added a new element to their sound and elevates their image of authenticity. Plus, something about Daniel Seavey playing the drums is SUCH A CONCEPT.
Overall, this new song seems like a major step in the right direction for the boys. I also think that it would make 5 Seconds of Summer and One Direction proud.. think Youngblood meets Midnight Memories. The range of vocals, diversity in tempo and dynamic use of volume really showcased every aspect of the band's ability. Can't wait to see what's in store.
I wasn't expecting Zayn to be the one to save 2020, but it appears he has. It's been a busy year for him: between becoming a dad, promoting the new Harry Potter app, and now a new song release.
The new R&B song proves to be a relaxing melody of love and a desire to work through anything that try to come between you and your love. It's a song of growth: both clearly showcasing Zayn's healing and growth in his life, but also an elevation of his past work. 
All signs point to Zayn continuing to create from his own experience. I'll be on the lookout.
Ashton gave fans a heart attack with his announcement that he was going to pursue solo music. By fans I mean me. I'm fans. Good thing, though, is he cleared that up immediately by explaining that this was merely an independent project, but he will not be leaving 5 Seconds of Summer.
His new single has quickly become a favorite. Rather than divert down the pop path that the band has skewed down over the years, Ashton took a completely different approach. "Skinny Skinny" immediately transported me to the 60's and if I closed my eyes I could nearly see Lou Reed singing softly to me at CBGB's in New York City. While the club no longer exists, Ashton's soft rock sound certainly provided me with a sense of nostalgia to somewhere I had never been.
I felt enveloped by the melancholy of Ashton's voice, something that we don't see showcased often in his band's discography as he traditionally takes the role of drummer. It took a few listens to stop being distracted by the warmth and certainty of the music itself to stop and process the meaning behind the melody.
Ashton did a great job of discussing the struggles of body image in a way that was entirely relatable. Instead of urging a sense of anxiety in his music to drive his message home, he allowed for it to become a source of comfort and understanding.
And that's a snapshot of everything that I can't stop listening to. Of course, my playlists are always growing and changing and over the coming posts, I can't wait to share with you the music that is speaking to me.
As you can see (and probably already know), quarantine seems to have grounded so many people, especially musicians. As we all continue to refind ourselves and understand better what it means to be human, I am sure amazing artwork will develop from this exploration. 
Be sure to let me know what you're listening to and what I should check out!